WHAT IS A VISION BOARD?
A vision board is a creative collection of images, meaningful quotes, song lyrics, or anything else that you find to be inspiring or representative of your personal goals, wants and desires. Typically, a vision board is the size of a posterboard, and it illustrates what you envision your ideal future might look like. Once it is completed, your vision board should be displayed somewhere where it can frequently trigger a sense motivation to act towards completing your plan to reach your goals and turn your vision into reality.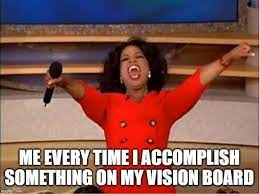 There aren't any set rules when it comes to creating a vision board, especially since it's meant to be personalized to inspire you in your own unique way. According to me, vision boards are not in any way related to manifestation. Manifestation is just a fragment of delusion. Vision boards work because our subconscious mind responds strongly to visuals and hence, we tend to act upon those goals. You can't just sit back and expect it to magically make things a reality.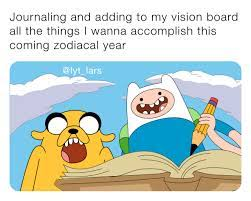 HOW TO MAKE A VISION BOARD?
Creating a vision board is a totally personal and customizable activity, so there's no one way to do it. Here are a few ideas or ways in which you can make a vision board for yourself:
Physical Board:
You can get printouts in different shapes and sizes and stick it on a wall board or directly on the wall in a fun structured way.
2. Wallpaper Board:
You can create the mood board on your phone or laptop through a basic editing app by placing your pictures accordingly and keep that board as your lock or home screen wallpaper.
3. Journal Board:
If you have a journal, you can also stick pictures randomly and create your own vision board.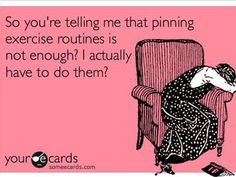 Source for finding pictures and quotes:
PINTEREST
Your Pictures
Quotes/Affirmations
Magazine Pictures etc.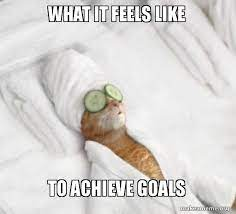 WHAT CAN YOU INCLUDE IN A VISION BOARD?
For starters, keep a target of 18-20 pictures for your board and collect your pictures accordingly:
Pictures representing how you want your life to look like.
Your favorite food dishes/coffee brands that will give you the comfort and help you indulge in it the entire year :p
Any words, phrases or quotes that make you feel good about yourself or you can relate to them in your day-to day life.
Anything relating to your financial and career goals that you have set for this year.
Any luxury or even non-luxury item that is on your bucket list and you wish to purchase this year.
Your bucket list travel destinations for this year.
Things that make you happy in general.
Any photograph that you have clicked, and you really like it.
Symbols that represent something important to you.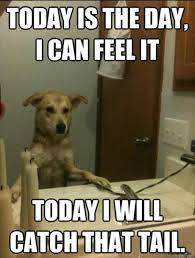 Bonus tip: As you brainstorm vision board ideas and gather your images, be sure to consider all areas of your life and make sure your vision accurately depicts what YOU want for your life, not what you or someone else thinks you should want. Also, avoid including unrealistic goals which you know, feel or think are impossible to achieve, which can obviously vary from person to person.
WHAT IS THE PURPOSE OF A VISION BOARD?
Vision boards also known as a goal board and it acts as a compass to keep you moving in the direction of your dreams, no matter what is happening in the world around you. When you make your vision board and display it where you can see it every day, it helps remind you of the bigger picture and what your ultimate purpose in life is.
Well, vision boards are not driven by magic. Instead, it is based on the concept that thoughts precede behavior. Mindsets drive behaviors that drive outcomes. Moreover, the process of creating a vision board can be very creative and help you to stay focused on your intentions and goals. But this focus goes beyond the vision board creation process. A great benefit of having your goals all in one place can be that it helps eliminate distractions. This focus will help you to achieve your goals faster and clear your mind.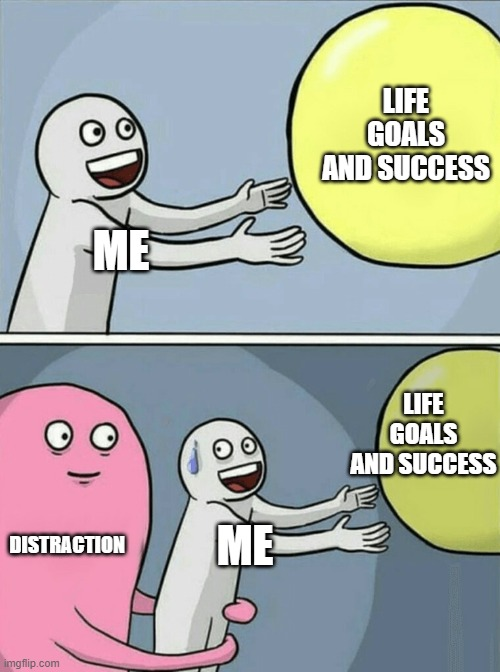 REAL-LIFE EXAMPLES OF A SUCCESSFUL VISION BOARD:
In 2022, I was introduced to the idea of creating a vision board. I was very intrigued and excited to compile pictures together hence, I had selected 18 pictures for my board which I had placed on my bedroom wall. They were a mixture of things – that I wanted, travel, quotes that inspire me and motivational factors in my life that I want to continue doing. Now, I will share my real-life experience with the vision board that I created last year:
BEACH PICTURE:
So, I am a water baby and I love beaches. The last time I went to a beach was a long time ago..until last year. I knew I had to reunite with the place I love the most. In February while creating the vision board, I had included a picture from Pinterest, there was a girl with a back pose sitting on the beach and I knew I had to visit a beach this year and recreate the Pinterest picture. And voila, I finally made a plan last year with my friends to visit Goa and the picture that I recreated was almost the exact replica of my vision board picture.
Now, you would say this particular situation came true because you made a plan, or what is the big deal because you would have gone anyways etc. etc. but, like I mentioned, the last time I went to a beach was almost 6-7 years ago and this year my vision was pretty clear that I definitely want to go on a beachy vacation and I made that happen.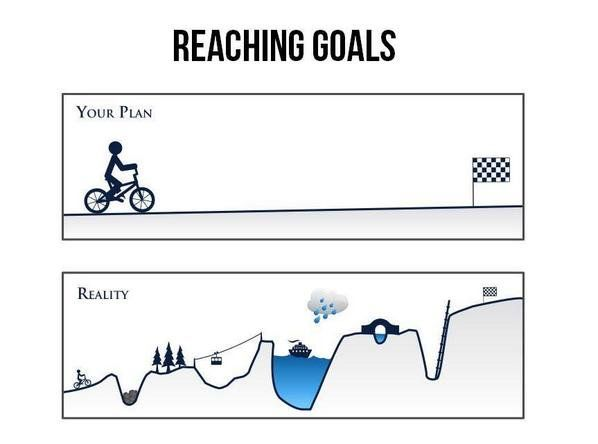 2. BLOG:
I wanted to be consistent with posting my blogs. I knew due to my office work, I might not get enough time. However, I was motivated to continue this, so I pasted a picture on my vision board with my blog logo which used to be a driving factor for me and made me realize how grateful I am because so many people appreciate what I write, which ultimately inspired me to write and express every month irrespective of how tired I was after work hours.
3. CHRISTMAS:
My favorite season in the entire year is the Christmas Season! I celebrate it with decorating my Christmas tree, watching Christmas movies on Netflix, and having yummy warm food in my cozy room. In 2021, I didn't do all of this on Christmas due to some reason and I was pretty sad about it. I wanted to keep my Christmas spirit alive in 2022 so I took out a random Christmasy picture from Pinterest and pasted on the board so that I don't miss out on the Christmas festivities. Last year, I had one of the best Christmas weeks ever. I saw some amazing Christmas movies, decorated my tree, and enjoyed every bit of it.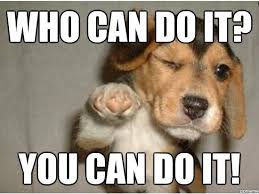 4. READING BOOKS:
Because of college, I couldn't dedicate time for reading books/novels. Then last year my office life started, and I became even more busy. I wanted to inculcate the habit of reading books again. I thought the best way to motivate myself into reading is to add one picture dedicated to novels on my vision board. Whenever I used to look at that picture on my board, it used to push me to read at least 2-3 pages a day and you wouldn't believe but I read so many books last year and I am continuing that habit this year as well.
There were in total 18 pictures in my 2022 vision board and I would say 70% of the goals were implemented successfully. Also, I just finished creating my vision board for this year. Remember, it's never too late, you don't have to make your board yearly, it can be made in the middle of the year as well. Think of your vision board as a living thing – rip things off, add things, or start from scratch if you're so inclined. And be open to variations of what you want to achieve. For example, if your goal is to go vegan, don't beat yourself up if you're more of a vegetarian after six months or so.
Sometimes we miss the fact that we've achieved something great, because it doesn't look exactly like we thought!
Love, KG